History of the Book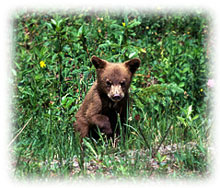 The idea and theme for this book developed in the summer of 1993 while visiting Canada. The purpose of this book is to identify the best spots for a sightseeing vacation in the western US and Canada, as well as the best times to see them. Not every national park is discussed, as the emphasis is on the truly spectacular parks that have nearby wonders and good lodging. The 1st edition of the book was printed in early 1994 with a color cover, yet with 92+ interior pages in black and white. Much of the information in the 1st edition is superceded by the 3rd edition, and all 189 photos are now in color. Sales of the 3rd edition are booked by Glacier Photo Publishing in Stevensville, MT 59870.
The 3rd edition is available in glossy color hardcopy by filling out the mail order form within the free Cover download; or you can buy the hardcopy via Paypal on the Downloads page to have the book sent to you sooner. The hardcopy has a high quality laminated cover 310 g and 4/4 157 g gloss art text, a thick glossy paper.
Cost of $18.00 includes hardcopy handling and shipping (1.5 lbs) to U.S. locations. You may also buy hardcopies from the Book Exchange on Brooks St in Missoula, Montana.
Archival quality photographs of some of the photos in the book are now for sale via mail order (see the mail order form on the Downloads page). These pictures have been taken on medium format film, and more recently using Canon digital cameras. I have been taking photos on 35 mm film since the 1960s. By the mid-1980s, I started shooting larger format film – first on 6 x 4.5 cm which proved too small for scenic photography, then to 4 x 5 inch (Toyo view camera) which was too big (or perhaps I should say too much trouble), and then to 6 x 7 cm (Pentax 67) and 6 x 9 cm (Fuji) which were just right for my purposes. When scanned with a quality film scanner, medium format file sizes can exceed 300 MB for just one RGB photo, equivalent to over 100 megapixels. Needless to say, the chapters available for download have photos that are significantly downsized for sales over the internet.
After growing up in Kansas, and graduating from the University of Arizona with majors in astronomy & physics in 1973, Dean worked in R&D on strategic missile signatures at Edwards AFB. He moved to Colorado in 1977, then to Montana in 2015 after over 40 yrs in aerospace engineering (space telescopes, rockets, spacecraft). As a result of living in Arizona, California, and Colorado, he has visited the national parks of the western United States many times. Now in western Montana, he is much closer to the magnificent parks in the Pacific northwest near Seattle.
In any event, I hope you enjoy this new 3rd edition, and wish you many happy trails!
Sincerely,
Dean Spieth
Home | History | Downloads Page | Index